Preamble
AMC Mumbai was born as 'Consultants Association 'in the Western suburbs of Mumbai in 1972 with a membership of about 100 consultant doctors. The life membership amounted to Rs 250/- It was a unique concept as it offered a common platform for Consultants of all shades of specialties and the main objective was to focus on the non-academic issues concerning consultants.. Being need-based and consultant-centric it caught the imagination of the practicing consultant. Because of its readiness for trouble shooting in all problems affecting the consultants, it became much sought after. Over the years it became a vibrant , front-line organization and currently has crossed the 10,000 membership mark –making it the largest multi-specialty association nationally.

It was the first medical organization to recognize the challenging reality of medico-legal problems. It became the first organization to set up a dedicated Medico-legal Cell over 3 decades ago. It came to be regarded as a 24x 7 medico-legal help-line and a friend in need! Indeed , even as on today , medico-legal support is the USP of AMC .Due to its unremitting efforts over the years , a unique ,unprecedented ,tailor-made professional indemnity Policy was crafted , a Policy which was the first-of-its –kind one in the entire country. Despite being much-imitated it is still unmatched. In addition , AMC assumed a fire-fighting role in all problem areas e.g. Municipal and State regulations for medical establishments , legislation for violence against doctors, Managed healthcare and TPA problems , infrastructural deficiencies , Medical Council problems and media attacks on doctors.

AMC was also the first Association to create a personal group health insurance cover for its members and their families with unheard of favorable features. Consultants Benevolent scheme to benefit the family of a member when he/she was no more.


The central idea in the genesis of AMC INDIA was the following:
Problems of Consultants and Nursing homes in all parts of the country are similar, and so are the solutions.
Why re-invent the wheel?
Why not help replicate a successful model to help our colleagues
Wider networking can only be symbiotic, potentiating and unifying.
Many legislations are from Central Govt and need to be dealt with at a national level
Hence AMC INDIA !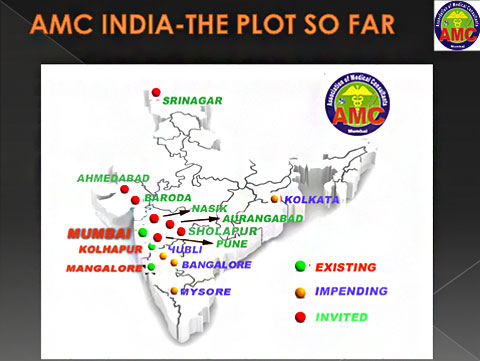 Hence at its AGM of AMC , it was unanimously decided to launch AMC India Project under the stewardship of Dr Lalit Kapoor as its Director , Dr Kishore Adhyanthaya as its Convener and Dr Niranjan Agarwal as its Secretary. AMC team relentlessly pursued this objective and visited several cities across the country in an effort to sensitize Consultants in other cities for the need of such an organization , namely AMC India ,later re-christened FAMCI and offered to assist them.
The modus operandi of initiating such an effort was as follows:
AMC team visits the host city by invitation to make a presentation about AMC and the advantages of forming such a body in that city.
Minimum 25 members needed to for such an affiliate Unit.
Affiliate Unit to determine its own Life membership fees but 40 % of AMC LM fees to be remitted to AMC India A/c in Mumbai to form Corpus.
Professional Indemnity, H & A Insurance and Consultants' Benevolent Scheme of Amc Mumbai would be accessible for AU members
MoU to be signed with AMC Mumbai
Electronic version of GRASP to be sent to the Affiliate Unit (AU)
Electronic version of GRASP to be sent to the Affiliate Unit (AU)
All AMC units to be eventually autonomous but to be integral to a Federation viz. FAMCI (Federation of AMCs of India)
Following cities were visited by Team AMC :
Ajmer
Bangalore
Delhi NCR
Dharwad
Gulbarga
Gurgaon
Hubli
Kolhapur
Kolkata
Mangalore
Mysore
Nashik
Pune
Raipur
Sindhudurg
We also received an invitation from Srinagar Consultants but visit was kept pending for logistic reasons. We record our grateful thanks to the following AMC members who offered their services to travel to the various cities, at the cost of their valuable professional time to promote the cause of a Pan-India AMC.The contribution of the following members is duly acknowledged:
A special mention must be made of Dr Bipin Pandit whose wide popularity amongst Consultants across the length and breadth of the country was instrumental in rallying around prominent consultants in various cities and metros and gave a fillip to this exciting mission. We are truly indebted to him and hereby acknowledge his contribution.
The other members who need to be profusely thanked are Dr Veena Pandit, Dr. Sujata Rao, Dr Smita Sharma, Dr Ajit Desai D Suhas Kate, Dr. Lalit Kapoor (who ignored his health constraints) Dr Kishore Adyanthaya , Dr Niranjan Agarwal. In addition, the following non-members were generous enough to spare their valuable time to travel along with AMC team to take part in the medico-legal discussions that were arranged as part of the effort to promote the concept of FAMCI:
Adv Ashish Chavan, Mr Jehangir Gai .
Presently, following are members of the FAMCI , having been formally inaugurated:
AMC Mangalore (First AU!)
AMC Bangalore
AMC Delhi
AMC Kolhapurli>
AMC Kolhapur
AMC Pune
AMC Nashik
AMC Mumbai is , of course the first, and founder-member of FAMCI.

This is indeed a proud moment for us at AMC and this would not have been possible without the monumental and humungous effort put in by the entire team and without the support of the successive managing committees and office bearers

We are hopeful of seeing a multiplier effect to inspire many more groups of consultants in the country to come forward to become part of the AMC family. We request all our members to use their contacts in other parts of Maharashtra as well as in the rest of the country to motivate Consultants to form a local AMC which in turn could network with Consultants pan India. Kindly get in touch with the undersigned and become instrumental in helping form a new member of FAMCI