Program committee 2021-22
Aims and Objectives
AMC organises all the year round programs to encompass the current as well as the burning issue in health care sector.
AMCON:
This is our annual conference attended by about 800 to 1000 consultants where personalities Like Shri Narayan Murthy, Shri Deepak Parekh, Shri Amitabh Bacchan, Ms. Kiran Bedi, Shri Soli Sorabjee, Shri Rajkumar Hirani, Shri Arnab Goswami, Shri Kapil Sharma and many other prominent speakers have addressed our members. Dedicated talks on the theme topics are delievered by experts in the respective fields during this event. The C.L. Zaveri oration is a feature for AMCON each year. Needless to say every consultant should attend this program and be a member of AMC
Doctors Day Program:
Every year AMC celebrates Doctors 'Day, ie. 1st july, by organising and conducting several social cause activities for the benefit of the general population. On the first sunday of July, AMC organises an entertainment program for the entire medical fraternity as a token of appreciation for all the hardwork and effort they put in all throughout the year, year after year. Felicitations and various awards are presented in this program.
CME:
CME sessions are organized across 8 zones of AMC and are attended by many consultants giving an opportinity to develop comradeship amongst collegues of different specialities
AMC Connect Programs:
To connect with all or members and understand area based issues and challenges. The AMC members can connect with the managing committee round the clock if needed.
Mentoring Next-Gen:
Amc organises workshops in communication skills, Financial management, ethics in medicine etc. to mentor and sharpen the skills of junior and upcoming consultants and also the undergraduate and post graduate students.
Aarogya - Manthan :
This is to brainstorm on health care issues by involving chairman and members of Medical Councils , Director of Medical Education and Municipal hospitals, Deans of medical Col-leges and many others in an event organised by AMC
Medico Legal Conference:
"MLCON" has been conducted annually since 2016 with a purpose of educating the medical professionals with various aspects of medico legal laws and systems and also to update them in recent changes in the legal framework. Apart from doctors, many Judges , advocates and lawyers are part of this coveted program.
Structure
Dr Susmita Bhatnagar (President)
Dr Pradeep Baliga (Hon. Secretary)
Dr. Vikrant Desai (Program Committee Chairman)
Dr. Supriya Arwari (Committee Member)
Dr. Nitin Bhatnagar (Committee Member)
Dr. Hemant Dugad (Committee Member)
Dr. Lalita Maydeo (Committee Member)
Dr. Sudha Tandon (Committee Member)
Programs done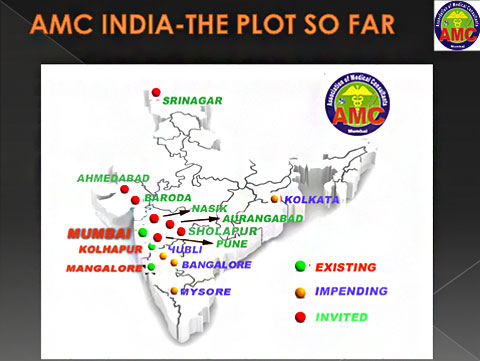 Hence at its AGM of AMC , it was unanimously decided to launch AMC India Project under the stewardship of Dr Lalit Kapoor as its Director , Dr Kishore Adhyanthaya as its Convener and Dr Niranjan Agarwal as its Secretary. AMC team relentlessly pursued this objective and visited several cities across the country in an effort to sensitize Consultants in other cities for the need of such an organization , namely AMC India ,later re-christened FAMCI and offered to assist them.
The modus operandi of initiating such an effort was as follows:
AMC team visits the host city by invitation to make a presentation about AMC and the advantages of forming such a body in that city.
Minimum 25 members needed to for such an affiliate Unit.
Affiliate Unit to determine its own Life membership fees but 40 % of AMC LM fees to be remitted to AMC India A/c in Mumbai to form Corpus.
Professional Indemnity, H & A Insurance and Consultants' Benevolent Scheme of Amc Mumbai would be accessible for AU members
MoU to be signed with AMC Mumbai
Electronic version of GRASP to be sent to the Affiliate Unit (AU)
Electronic version of GRASP to be sent to the Affiliate Unit (AU)
All AMC units to be eventually autonomous but to be integral to a Federation viz. FAMCI (Federation of AMCs of India)
Following cities were visited by Team AMC :
Mangalore
Bangalore
Kolhapur
Pune
Nashik
Ajmer
Hubli
Gulbarga
Kolkata
Delhi NCR
Gurgaon
Dharwad
Mysore
Sindhudurg
Raipur
We also received an invitation from Srinagar Consultants but visit was kept pending for logistic reasons. We record our grateful thanks to the following AMC members who offered their services to travel to the various cities, at the cost of their valuable professional time to promote the cause of a Pan-India AMC.The contribution of the following members is duly acknowledged:
A special mention must be made of Dr Bipin Pandit whose wide popularity amongst Consultants across the length and breadth of the country was instrumental in rallying around prominent consultants in various cities and metros and gave a fillip to this exciting mission. We are truly indebted to him and hereby acknowledge his contribution.
The other members who need to be profusely thanked are Dr Veena Pandit, Dr. Sujata Rao, Dr Smita Sharma, Dr Ajit Desai D Suhas Kate, Dr. Lalit Kapoor (who ignored his health constraints) Dr Kishore Adyanthaya , Dr Niranjan Agarwal. In addition, the following non-members were generous enough to spare their valuable time to travel along with AMC team to take part in the medico-legal discussions that were arranged as part of the effort to promote the concept of FAMCI:
Presently, following are members of the FAMCI , having been formally inaugurated:
AMC Mangalore (First AU!)
AMC Bangalore
AMC Delhi
AMC Kolhapur
AMC Kolhapur
AMC Pune
AMC Nashik
AMC Mumbai is , of course the first, and founder-member of FAMCI.

This is indeed a proud moment for us at AMC and this would not have been possible without the monumental and humungous effort put in by the entire team and without the support of the successive managing committees and office bearers

We are hopeful of seeing a multiplier effect to inspire many more groups of consultants in the country to come forward to become part of the AMC family. We request all our members to use their contacts in other parts of Maharashtra as well as in the rest of the country to motivate Consultants to form a local AMC which in turn could network with Consultants pan India. Kindly get in touch with the undersigned and become instrumental in helping form a new member of FAMCI